Student Awards and Recognition
Each year one student is selected by a panel of 3 alumni reviewers as the winner of the Graduate Student Research Award.   The winner is provided with a stipend to travel to the annual AAPM conference to present their research and receive their award at the WSU Alumni Gathering.  The travel stipend is funded entirely by generous alumni donations.  If you would like to volunteer to be an alumni judge for the award, please contact us!   
Graduate Student Research Awardees
Eric Morris
2019 Winner
Title of Research Project:
 Cardiac Substructure Segmentation with Deep Learning for Improved Cardiac Sparing.
Eric Morris
2018 Winner
Title of Research Project: Cardiac Substructure Segmentation and Dosimetry Using a Novel hybrid MR/CT Cardiac Atlas.
Rebecca Meerschaert
2017 Winner
Title of Research Project:
Investigation of Cervical Cancer Recurrence Indicators Based on Multi-modality Image Information.
Rebecca Meerschaert
2016 Winner
Title of Research Project:
A Comprehensive Evaluation of Adaptive Daily Planning for Cervical Cancer HDR Brachytherapy
Viatcheslav Zakjevskii
2014 Winner
Title of Research Project:
Development of an End-to-End Test for the Varian TrueBeam with a Novel Multiple-Dosimetric Modality H&N Phantom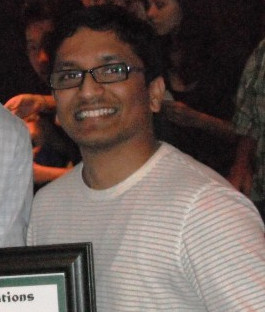 Yashwanth Katkuri
2013 Winner
Title of Research Project:
Reducing the Background Field Variations in MRI Using Geometry Information
 AWARDS AND RECOGNITION
2020 Eric Morris- AAPM Best in Physics Oral Presentation
2020 Eric Morris- Henry Ford Cancer Institute Outstanding Clinical Manuscript of the Year
2020 Eric Carver- 2nd place,GLC-AAPM Young Investigator's Symposium
2020 Eric Morris- 3rd place, GLC-AAPM Young Investigator's Symposium
2019 Eric Morris - Winner, GLC-AAPM Med Phys Slam Competition
2019 Eric Morris - 2018 Award Best Medical Physics, Article in the Journal of Applied Clinical Medical Physics
2019 Eric Morris, 3rd place, AAPM John R. Cameron Young Investigator Competition
2019 Eric Morris - Winner, GLC-AAPM Young Investigator's Symposium
2019 Shupeng Chen - Runner-Up, GLC-AAPM Young Investigator's Symposium
2019 Dr. An Qin - Runner-Up, GLC-AAPM Young Investigator's Symposium
2019 Eric Morris- 2nd place, WSU SOM Graduate research Orla Presentation Competition
2018 Eric Morris - Second place, National AAPM Med Phys Slam Competition
2018 Eric Morris - AAPM Expanding Horizons Travel Grant Recipient 
2018 Eric Morris - Winner, GLC-AAPM Med Phys Slam Competition
2018 Eric Morris – Winner, GLC-AAPM Young Investigator's Symposium
2017 Eric Morris – Runner-Up, GLC-AAPM Young Investigator's Symposium
2016 Ryan Price – Runner-Up, GLC-AAPM Young Investigator's Symposium
2015 John Barrett – Winner, GLC-AAPM Young Investigator's Symposium
2012 Cory Knill – Winner, GLC-AAPM Young Investigator's Symposium
2010 Mark Tucker – Finalist, AAPM Young Investigator's Symposium
2009 Justus Adamson – WSU SOM Graduate Student Research Award
2008 Danielle Worthy – WSU SOM Academic Excellence Award
2008 Bo Zhao – Second place, GLC-AAPM Young Investigator's Symposium
2007 Shalini Pandya – WSU SOM Academic Excellence Award
2007 Anthony Doemer – Third place, GLC-AAPM Young Investigator's Symposium
2007 Carri Glide – First place (tie), GLC-AAPM Young Investigator's Symposium
2007 Carri Glide – Reviewer's Choice Award, Annual Meeting of the AAPM
2007 Yimei Huang – Finalist, AAPM Young Investigator's Symposium
2006 Carri Glide – WSU SOM Research Excellence Award
2006 Carri Glide – Third place, WSU SOM Graduate Student Research Day
2006 Yimei Huang – WSU SOM Academic Excellence Award
2006 Charles Dodge – Finalist, AAPM Young Investigator's Symposium
2006 Carri Glide – Second place, AAPM Young Investigator's Symposium
2005 Nagaraju Mogili – First place, GLC-AAPM Young Investigator's Symposium